The Top O' Trenton Bar Tour is the product of years of dedicated research and field work.

Point of Origin: White Horse Circle
Of course you have a designated non-drinking driver with you.

1. Ivy Tavern. From White Horse Circle, take South Broad Street toward Trenton; shortly past Circle, stop at Ivy Tavern, at 3108 S. Broad.

2. The Sportsman's Pub and Nate's. Continue on S. Broad Street to Lalor Street. Lalor veers off to the left at an angle from S. Broad. Stop at Sportsman's Pub, 819 Lalor, then at Nate's, 979 Lalor.
| | |
| --- | --- |
| 3. Quinn's. Continue on Lalor to its end. Turn right. You're on Lamberton Road. At the fork, keep to the right; this keeps you on Lamberton Road (the left arm of the fork is the beginning of the John Fitch Way). As soon as you're past the fork, look for Cass Street; turn right onto Cass. Stop at Quinn's, 701 Cass Street (one block past State Prison). Quinn's looks like it's been there for about a century. Click on the image at right for the full view of Quinn's original stained glass window. Photo from 1992.. | |
Defining Moment: A Saturday afternoon in February. Two of us in Quinn's; only other patron is a tall, thin guy in his sixties wearing a brown cowboy hat, worn brown cordury sport jacket and jeans. Cowboy goes up to the bar for another beer and some Cheese Doodles. Returns to his table, takes out his false teeth and gums down the whole bag of Cheese Doodles.
4. Jule's Tavern and Rossi's Bar & Grill. Follow Cass to its end. Right on S. Broad, then an immediate left onto Beatty Street. Continue on Beatty, past Genessee, South Clinton and Fulton. Then take next right. It's a tricky right, since you're turning into a kind of fork. The right leg of the fork is Cummings Street. (If you blow it, don't worry. You'll be on Morris Avenue and you can stop at Rossi's Bar and Grill at 501 Morris. Then just take a right off of Morris for one block, and you'll be at Cummings Street.) Stop at Jule's Tavern, at 267 Cummings Street.
| | |
| --- | --- |
| 5. Rose's Corner Bar. Take Cummings to Anderson Street; go right on to Anderson, then right on S. Clinton. Stop at Rose's Corner Bar. Click on Roses sign for a 1992 photo of Roses.. | |
6. Soho. Continue along South Clinton to Mott Street (Clin-Mott restaurant is on the corner). Right onto Mott. Stop at Soho, at 142 Mott Street.
7. Larry's Tavern. Return to South Clinton, turn right and pick up Route 1 north. Get off at Olden Avenue exit. Turn right onto New York Avenue and proceed to Larry's Tavern, 965 New York Avenue.
8. Chuck & Eddie's. From Larry's, proceed up New York Avenue to the next corner and turn left, then turn left when you get to Indiana Avenue. Stop at Chuck & Eddie's, at 900 Indiana. Chuck & Eddie's maintains a peculiar tradition of many Trenton taverns in having no sign. All that tells you it's a bar is the neon "Michelob" light in one window and the "Bud" sign in the other. Warning: Think twice before taking your wife or girlfriend into this place. Chuck & Eddie's has an atmosphere all its own that true bar afficionados will appreciate, but it's so downscale it makes even Rose's look like the Rainbow Room. Don't blame me if you ignore this warning and wind up coping with trouble.
9. Time for a Nightcap. At this point, you're only a few blocks south of the northernmost border of the City of Trenton, so this is where the tour ends. Given the unique qualities of Chuck & Eddie's that I've mentioned already, you may not want to end the evening on that note, although by now you probably can't tell the difference. If you're heading out to Hamilton, swing back through Chambersburg and stop at Rossi's Bar & Grill if you didn't stop there already. If you're heading back to Lawrence Township or Princeton, go back down Indiana Avenue the way you came to get to Chuck & Eddie's, but take it all the way out to the freeway. Take the freeway to the Brunswick Circle, and from Brunswick Circle over to Princeton Avenue. Turn right on Princeton Avenue. On your left you'll see a Thai restaurant that used to be the Merry Go Round Bar, of late, lamented memory.
You know the way home from there.
Additional Big T Hotspots Worth Trying
Zookie's - 86 E. Paul Avenue (off of Brunswick Avenue)
Enterprise Tavern - Mulberry Street
JoJo's - Rt. 33 Mercerville (by Five Points)
Ernie's Tavern - Rt. 33 Robbinsville (by train tracks; just before Rt.130).
---
Trenton Bar Hall of Fame
Great spots that now exist only in memory

The Merry Go Round
The Dart Tavern
The Elbow Room
Villa Capri
The Treasure Chest
The Celebrity Room
---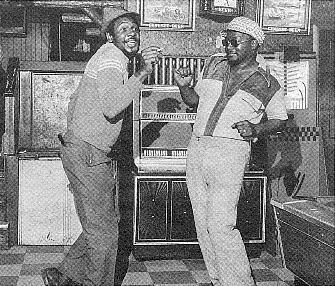 The Club 88 Experience:
Doing the Kung Fu in '72